Optimized

Adobe Data Workbench
From Data to Insights…

40%+ Faster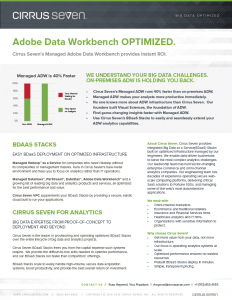 Your on-premises Adobe Data Workbench is costing you time and money. With Cirrus Seven's Managed ADW you get Cirrus Seven's optimized infrastructure aimed at improving your analytics performance. Optimizations result in increased:
Speed:  40% +  faster than on premises ADW.
Familiarity:  It is the same ADW, just much quicker.
Productivity:  No learning curve, just  more immediate results from day one.
Inspiration:  Find more game changing insights, test more ideas every day.
Simplicity:  No complex, costly infrastructure to manage, flat rate pricing.
Value:  Optimized ADW means no wasted resources.